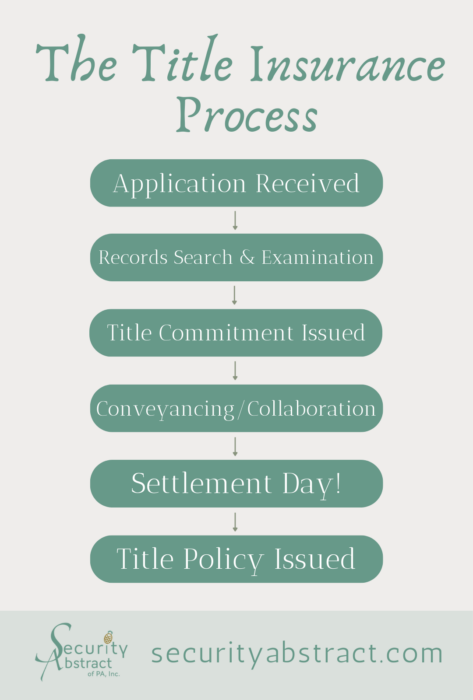 Application Received
When a property goes under contract, a party in the transaction (most often the buyer's agent) reaches out to Security Abstract to order title insurance. This typically happens within a few days after the buyer and seller sign the Agreement of Sale. In the case of a refinance, the loan officer or borrower contacts us to start the title insurance process. A member of our team collects all necessary information and documentation and begins the search process.
Records Search and Title Examination
Upon receiving an application, our team immediately begins the search process. This involves our search expert and title examiner (each of whom have over 40 years of experience in title insurance) meticulously combing through records dating back a minimum of 60 years. This key first step outlines the requirements for clearing title.
Title Commitment Issued
Shortly after the title search is examined, the client will receive a "Title Commitment." This important document is exactly how it sounds – our promise to provide you with clear title by detailing the various "proofs" (i.e. conditions) and liens to be addressed. Additionally, the title commitment discloses all recorded documents and exceptions that will continue to run with the property (e.g. an electric easement).
Conveyancing/Collaboration
At this stage, our conveyancing team works to "convey" title by ordering the necessary certifications and documents – things like "sewer certs", "tax certs", "water certs" and "mortgage payoffs" to ensure that ownership is fully transferable on settlement day. This stage involves a lot of nuanced paperwork, and we're fortunate to have a highly experienced and organized conveyancer on our team. It also involves close communication with local municipalities and authorities to determine which certifications will be required.
Around this same time, we begin working closely with the loan officer or lender, if applicable. Security Abstract assists with preparing and distributing all of the lender's documents on settlement day, and settlement is typically scheduled around this time, too. If the seller does not plan on attending settlement, we also prepare a deed package that can be signed and notarized by the seller prior to settlement day.
Settlement Day
The big day is here! On settlement day, the necessary funds are both collected and distributed accordingly, and important documents are signed. Parties in attendance typically include the buyers, buyer's real estate agent, and often the sellers and seller's agent (though the sellers can sign a deed package prior to settlement day, if they prefer). Sometimes the buyer's loan officer will also attend settlement. Following settlement, the proper paperwork (i.e. the Deed and Mortgage) is immediately sent to the county for recording.
Title Policy Issued
Within a few months of settlement day, the final title policy is issued to the new owner. The owner's policy is then sent to the new owner's address, along with the original recorded deed.